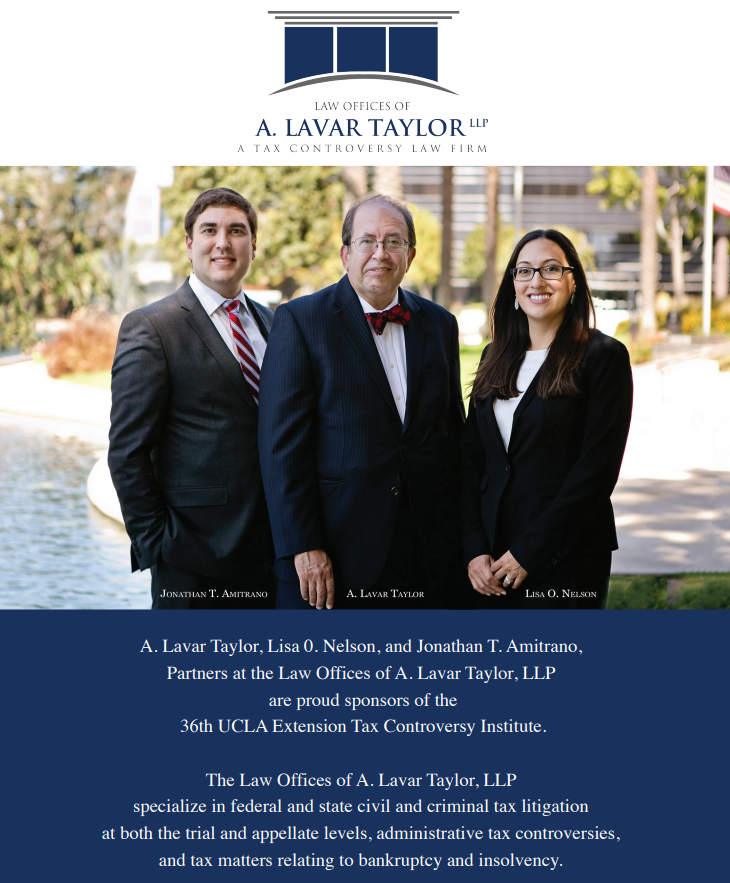 October 7, 2020
The Annual Tax Controversy Institute is the preeminent conference in the United States dedicated to tax controversy and tax litigation. Designed for attorneys, accountants, and business and corporate professionals.
Please join us for the 36th Annual Tax Controversy Institute on Tuesday, October 20th, 2020 from 9:15 AM-3:30 PM (PST). In this virtual event, you'll learn the latest procedures implemented by the United States Tax Court and best practices to follow for trials and other proceedings in light of COVID-19. Mr. Lavar Taylor, a recognized and notable tax controversy attorney, will moderate an esteemed group of panelists for this discussion from 11:00 AM-12:00 PM (PST). This session is entitled "Handling Your Tax Court Matter in the COVID-19 Environment" and attendees are eligible to earn CEU's for this event.
About this course:
This one-day conference brings together sophisticated tax practitioners from the federal government, judiciary, and private practice to discuss and debate the procedures, policies, and strategies that are involved in resolving difficult tax controversy issues. The Institute's continued success is structured around extremely high-quality practical presentations by sophisticated government and private practitioners from throughout the country who enjoy an open discussion of sometimes sensitive practice issues with the audience. Our responsibilities to tax administration and to the profession dictate an ongoing, strong commitment to this annual Institute.
We recommend you register early for this insightful session to secure your participation at https://www.uclaextension.edu/accounting-taxation-internal-audit/taxation/course/36th-annual-tax-controversy-institute-mgmt-89521
Author: A. Lavar Taylor, Managing Partner